Apr 22,2020
A glance at the State Key Laboratory of Advanced Metallurgy
Introduction
University of Science and Technology Beijing (USTB) was founded in 1952 during a nationwide reorganization of higher education systems, which brought together the best departments in the fields of mining, metallurgy and materials from six eminent universities in China. Over half a century of remarkable growth, it has developed into one of the most influential key national universities in China. USTB is a member of national 211 Project (which is designed to develop a hundred first-rate universities in the 21th century) and was selected for the "Platform for National Advanced Disciplines Innovation" program in 2006. State Key Laboratory of Advanced Metallurgy (SKLAM) of USTB was founded in October 2011 (formerly Key Laboratory of the Ministry of Education), approved by the Ministry of Science and Technology.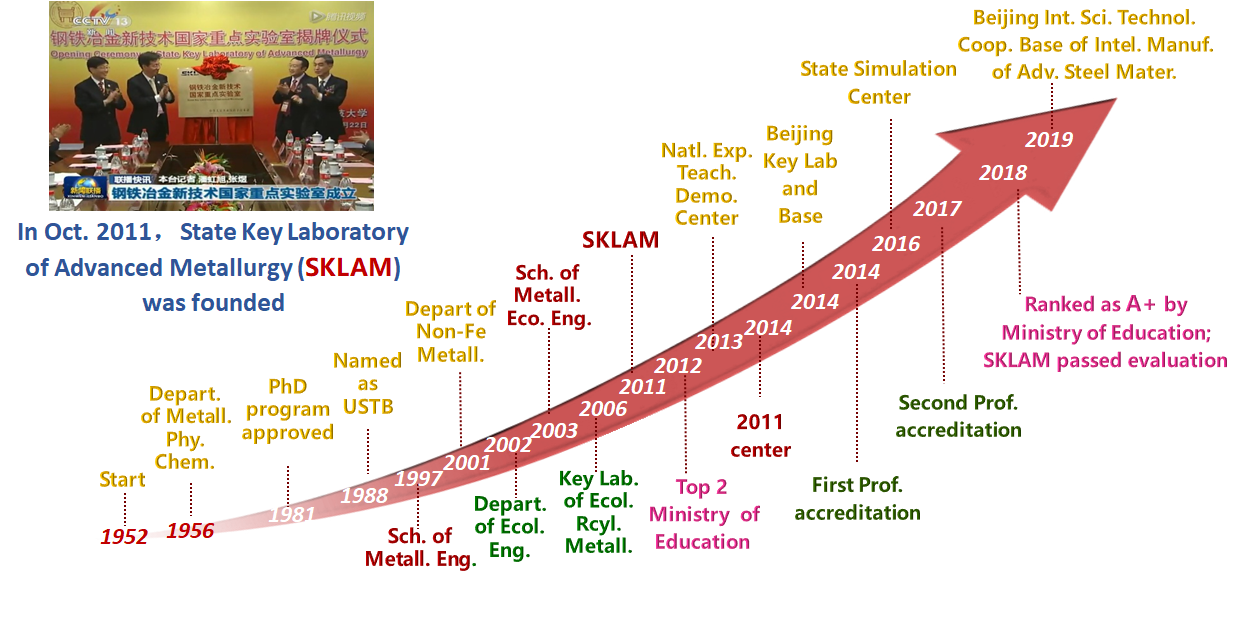 There are 80 faculty and staff members at SKLAM, including 50 professors (51 doctoral supervisors), nine associate professors and senior engineers, and 13 lecturers and engineers, 88.5% of whom hold doctoral degrees. Among them, there are two academicians, six recipients of the National Outstanding Youth Fund of NSFC, four recipients of Changjiang Scholars Programme, one recipient of Ten-thousand Talents Program, one chief Scientist of the 973 program, three recipients of Thousand Talent Program for Young Outstanding Scientists, five awardees of National Tens of Thousands of Talents Awards, six recipients of the National Excellent Youth Fund of NSFC, nine New Century Excellent Talents of the Ministry of Education, etc. SKLAM has four Innovation Teams of the Ministry of Education, including three Programs for Changjiang Scholars and Innovative Research Team in Ministry of Education, and one Huang Danian Educational Team. Besides, more than 40 well-known experts and scholars from home and abroad are employed as guest or part-time professors to participate in our research.
SKLAM has always been orientated by meeting the great demand of our nation and industries, focusing on the research of high-temperature reactive mechanism & kinetics, low carbon metallurgy, resource utilization and clean steel production. SKLAM aims at realizing high-efficiency energy conversion, resource utilization and high-end steel production for the iron and steel industry.
Message of SKLAM
Global SKLAM welcomes postgraduate students to come study with us. You will be exposed to top researchers, state-of-art facilities, metallurgical frontiers and global vision.
For researchers or companies who have related research of interest or projects, you are warmly welcom to contact us and we look forward to cooperating with you.
Contact Us
Executive Director: Prof. Zhancheng GUO, zcguo@ustb.edu.cn
Deputy Director (International): Prof. Shuqiang JIAO, sjiao@ustb.edu.cn, TEL./FAX.: 86-010-62333617